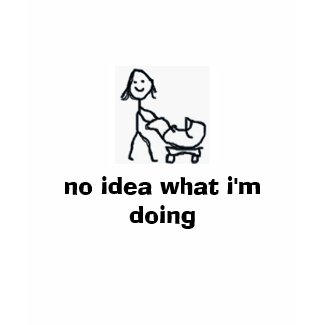 I have come to a realization. This blog is like my firstborn child and the ideals that I had about motherhood. I don't know what to write about on this blog. Oh I have an idea of what I want to be like in my head...witty, funny, and clever. I want to make people think and feel and relate to my posts. But like a first time mom being sent home with her screaming newborn baby, I have no freaking idea what I'm doing. (FYI: The cute corresponding shirt pictured above is available from
Rookie Moms
. This isn't advertising It was the only decent picture that came up when I Googled "no idea what I'm doing" with the word "mom.")
In reality, I am not a newbie mom. I just gave birth to my 5th child and at first I was nervous. I hadn't even held a baby in eight years much less cared for one but when I changed Skylar's first poopy diaper it all came rushing back. It was like when you sit on a bike and just remember how to ride. She will be two weeks old tomorrow and I swear she's been the easiest baby of my five. Is it her or is it that I'm a pro at this? Probably a bit of both.
Yet every time I start to write a post for this blog, I feel like I did when my first newborn son was left in my room for the first night and wouldn't stop crying. I feel like a bumbling idiot who isn't doing anything right. Everything feels awkward and I'm embarrassed to ask for help because then someone will know that I don't know what I'm doing.
Somehow though I figured it out. I made a ton of mistakes with my firstborn but now he's 19 years old, away at college, getting straight A's, and holding down a part time job. So obviously I know a helluva lot more than I thought. But if you had told me on that first night that I was trying to get him to stop screaming, I would have never believed that I could come so far.
I need to have the same attitude about this blog. I don't have a clue what I'm doing. A few posts ago I wrote about how someday I want my blog to be popular enough to be nominated for (heck maybe even be on) the
Circle of Moms Top 25 Single Mother blogs
. But like my oldest son leaving for college, I have a lot of growing, learning, and developing to do before I reach that stage. I am a newbie blogger. I need to accept that I'm a newbie blogger. All of those top 25 winners were newbie bloggers once too!
Like becoming a parent, I don't know where this blogging adventure will take me. Maybe my blog won't end up being the metaphorical equivalent of a well-adjusted high school graduate going off to college several states away. Maybe instead my blog will end up being a drug-addicted delinquent who refuses to move out and that I keep having to bail out of jail. In other words, maybe I will fail at this blog. I just know that I have to try.
Maybe part of my fears has to do with the fact that I am a single mother of five children. I've been divorced and widowed which is nothing to be ashamed of. But to get knocked up at the age of 36 and have a baby without being coupled, much less married, is truly...well... unconventional. It's almost a feminist statement and much of my family isn't too fond of this brave new world that I've laid claim to.
Being so different from the rest of society is terrifying sometimes. It's one hell of a wake up call when a family member says to you that she would support you if you gave your baby up for adoption. As is when one of your best friends while drunk, asks you if you're sure you know who the father is. Or how about the time I ran into a former church member and she saw that I was pregnant and asked if I had remarried? I will never forget the look on her face when I said no. And then there was the time in the hospital when a nurse thought my late husband's brother was Skylar's father. The last several months of my life have been full of awkward moments like these.
Yet I know in my heart, these are the stories I want to tell. Raising five children requires guts but to raise five children alone and to blog about it requires a bravery that defies logic. I want to write this blog for myself and for the other single mothers (and fathers) out there. Maybe I'll never have a popular blog, but I'll have told my story.